The Story of a 2nd Grader's Battle with Cancer as Told by Mother Sharla Davenport
2survive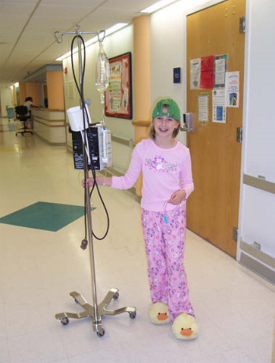 In 2006, Delaney Davenport was a second grader at Troy Elementary School. In early February of that year, she began complaining of a stomach ache. After several trips to the local child health center and several, "oh she's okay, it's just constipation, take this laxative and everything will be alright" diagnoses, we FINALY stumbled on a doctor during an asthma attack who was fussing at me as a mother because I had not brought Delaney in to get her flu shot. Obviously, my reply was "well if it were that important, then it looks like to me they would have given it to her when we were in here last week".
Needless to say, he laid her down on the examination table and gasped at what appeared to be a football lodged in her lower stomach. Immediately, we were sent for an ultrasound and it was determined that Delaney had an ovarian teratoma. This was on a Friday afternoon … we were at Children's Hospital in Birmingham that next Monday morning. We were told to report to "CLINIC 8", which we did, and the longer we sat there, the longer I realized that we were in the wrong place. Surely I had misunderstood. Honestly, at that point in time, I didn't even know what an "oncologist" was, but I did know that these kids in Clinic 8 had nothing to do with MY kid. I was WRONG.
They removed her left ovary. We recovered in the hospital for about a week. We went home and we WAITED. Then came THE call. Delaney was diagnosed with a malignant germ cell tumor which had spread from her ovary into her abdomen. Oncologists prescribed five sessions of chemotherapy for her, each lasting five days with a twenty-one day break between each one. As a mother of a 7 year old, I was determined to make each of these "visits" just as pleasant an experience as humanly possible considering the needles, the drugs, the throwing up and the week-long confinements.
The first round of chemo was spent "camping under the stars". Her hospital bed was transformed into a tent and there were aluminum foil wrapped stars hanging all around the room. We had an electric smores maker that we put to extremely good use and we read books about the great outdoors by flashlight when she was too weak to get out of bed.
Another round of chemo was a duplicate of our Relay for Life event because Delaney was scheduled to be in the hospital and would miss that night celebrating those who had faced the battle she currently found herself facing. She was absolutely heartbroken because she wouldn't be able to attend the event. So, before we left headed to the hospital, we had a neighborhood "relay" and we took all the luminary bags our family and friends had decorated from that night and hung them around her room. She donned her "survivor" shirt and medal like they were prize winning possessions … and THEY WERE!!!! She IS a SURVIVOR and has been now for five years!!!!
When people ask me about that experience, there are many things that we gained from it, BUT the one that stands out the most in my mind is when Delaney's hair began to fall out from the chemo. We had MANY, MANY people offer to buy wigs and no telling how many people send hats from around the country (even had one sent from the World Cup in Germany .. tell me what a powerful feeling that was .. someone in Germany knew my child and was PRAYING for her recovery). All my innocent little Delaney would say when the offer for a wig was made was "IT'S NOT MY HAIR THAT MAKES ME BEAUTIFUL, IT'S MY HEART" …. I still tear up, in a VERY PROUD mother kind of way, every time those sweet words come to mind. I know it is strange to say, and I would never wish it on anyone, but her cancer made us stronger people.
We still continue traditions made during those very difficult times. We have a prayer box in which we jot down prayers for those we love, place them in the box, and turn them over to God .. He's got this!!! We still enjoy our Saturday morning rides through the country with doughnuts in hand, sunroof slid open and the music up just as loud as it can go, and if you catch us on the right morning, you just might see us out dancing on a dirt road, and it is definitely not against our better judgment to TAKE TIME TO DANCE IN THE RAIN, as always, feel free to stop and join along!!!!:)