Some Hilariously Dumb Things Said to Me as a Cancer Patient
2survive
Below is a list of funny things I've heard over the years as a result of having cancer. None of these were crushing blows that impacted my life, and most people didn't mean any harm. Many times people just don't know what they are saying. Believe me, I've said my fair share of goofy comments over the years and will continue to do so. Enjoy and comment with your experiences.
Ryan
1. "Nice haircut… you look like a cancer patient."
This was truly hilarious when it happened. I was at the mall with my friend and we ran into one of his friends from college. His friend met me and immediately made the comment. My friend and I didn't say a word. Heck, I think I was both in shock and on anti-nausea medication.—I was probably more concerned about eating. Later we simply laughed. This comment shows that sometimes people see cancer as such a distant thing that it couldn't possibly happen to anyone they know. Let's give the guy some credit though, he nailed it on the head. I did look like a cancer patient.
2. "Well at least you had the good kind of cancer. That's almost like a cold these days."
In 2010 I played on a tour called, the "Hear the Heart" tour. I traveled the country playing at children's camps, hospitals, clinics, etc. I also ended up playing at a festival that was on the way to one of my other shows.
Afterwards, while selling CDs (yes people used those in 2010), a lady came to my table to ask me a few questions. One question she asked was, "So what type of cancer did you have?" I told her I had Hodgkins lymphoma. That was when she provided me with the epic comment posted above.
Just another hilarious experience. I'm sure many cancer survivors/patients have had have similar experiences. I mean I'll admit, my type of cancer was definitely more treatable than some of the others out there, but the chemotherapy, radiation and bone marrow transplant were a little worse that taking NyQuil.
3. "You've been really lazy lately."
This was said to me by someone who didn't really know any better. We were both young. I had chemo that day and didn't exactly want to cut the grass. Hell, let's face it, I was 11. I was pretty lazy at times.
4. "So you like give off radiation?"
Over the years, people have asked me this question several times, believe it or not. It's not funny. Not because it's offensive or because I probably am radioactive. It's not funny simply because I put it in the category with that other joke I hear all of the time, "It's 'hammer' time!" Please, please stop with the M.C. Hammer joke.
5. "Did the doctors ever tell you that you might die?"
This is always a great thing to say at any point during a conversation right? Honestly, I can only remember hearing this one time in my life. It was during a less than awesome heart event that you can read about here. It was caused by cancer treatment, but not by cancer. However when you think about it, I guess it's actually a very reasonable question, and I did almost eat it on a couple of occasions.
6. "Cancer face!"
I really don't have a comment for this one. A classmate told me this in sixth grade in front of the whole class. This one was pretty rough, but hell, we were kids and I didn't actually have cancer of the face. So it all worked out.
Summary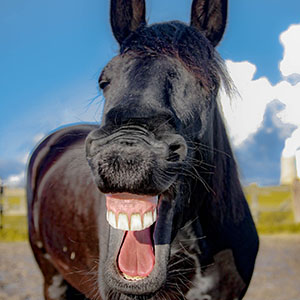 Article Name
Some Hilariously Dumb Things Said to Me as a Cancer Patient
Description
Here are some hilariously dumb things said to me as a cancer patient. Cancer sucks yes, but these things made me laugh my butt off.
Author
Publisher Name
Publisher Logo